Sometime in the next few days – Tuesday being most likely – Mark will be embarking on a relatively difficult and potentially discouraging journey for which we are asking you to pray. He will be travelling 107 kms (about 65 miles) to spend several days at a cluster of villages called Mobou. These villages are at the outer fringe of our FM station's listening area, and he is going there to install two FM radio repeaters which will enable the church people there to hear our broadcasts more easily.
That sounds relatively simple, but in fact there are a myriad of things that can go wrong, not least of which is that the repeaters may or may not actually work - which is why we are sending out this prayer bulletin. Here, in detail, are our concerns: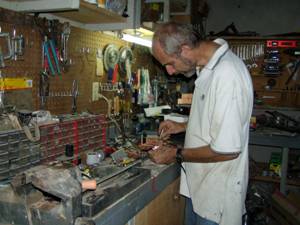 Getting the repeaters ready
It is still early in the rainy season here, but there has been enough rain that we are concerned about the conditions of the road. These 65 miles take 4 hours in the best of circumstances, and Mark really doesn't want it to take any longer. As a matter of fact, he would be hard pressed to come up with anything he dislikes in Chad more than road travel. (Diane, incidentally, is going to stay at home for this trip. She had enough mud and water last week getting to a women's conference.)
The basic idea is that Mark will install a large antenna that looks like the old pre-cable roof-top TV antenna. This antenna will, so the theory goes, pick up the very weak FM signal, and then pipe it into a box full of electronics which will rebroadcast a strong signal so that people can listen easily. The trouble is, it didn't work very well either of the two times Mark field-tested it. (Field-testing means driving several hours through the bush to find a weak enough signal, so that's not something you want to do too often either.) Now, however, we might have a solution to the technical problems, but no time for further field-tests, so the installation of the antennas in Mobou is the field-test.
Those of you who work with Mark know that he (and Diane, too, as far as that goes) can be kind of obsessive about making sure everything is "just right" in these things. As the forgoing paragraph suggests, nothing about this junket is even close to being "just right". However, we are pressing ahead due to the impending rains and an upcoming trip to N'Djamena to get the book of Genesis approved for publication. In fact, due to the rainy season and our furlough (which begins when the rains end in Oct or Nov), this week will be our last chance for at least another year to install these repeaters and visit with the churches in Mobou.
The people of Mobou speak a dialect of Kwong. However, they are so far away from Chageen, that they fall in another church district, the pastors of which all preach in an assortment of other languages, but not Kwong. The upshot is that the believers in Mobou rarely hear a sermon in their own language. So it is easy to see how The Voice of Chageen could be a tremendous encouragement to them – if they can hear it. All that to say that it is important to get these repeaters to work.
Even if the repeaters don't work, it is important that the people in Mobou see us face to face. Being in as remote a place as they are, they have precious little contact with us, but they look up to us as their spiritual uncles, speaking as we do their language. And when, as has sometimes happened, we go a couple years without paying them a visit, they can be very hurt. This is perhaps the main reason for making the trip even knowing that the FM repeaters might not work.
As you receive this letter, Mark is spending every spare moment getting the antennas and electronic components ready for the trip. Pray that he doesn't forget anything.
Your fellow servants,
Mark and Diane