News from Mark and Diane Vanderkooi
---
June 11, 2014
Dear family, friends, and supporters;
32 hours in airports and airplanes, including 17 continuous hours in one large (and, for economy class, remarkably comfortable) airplane brought us at last to Indianapolis on May 3. We had been away for just shy of 3 full years, and this will be our 7th furlough.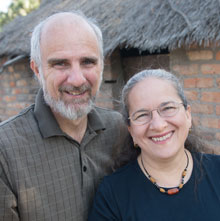 Adaptation to life in the USA was smooth. It was the small things, like stomping on a clutch pedal that isn't there, or basking under an unlimited supply of hot water in the shower, that most reminded us that we weren't in Chad any more. Unlike some previous furloughs, we had no particular urge to rush into Walmart, Best Buy, or Lowes. We were, however, a little surprised, not to say mortified, to find missives addressed to us from the AARP in the enormous pile of junk mail which had accumulated for us at Diane's folks' place. It seems that we both turned 50 sometime during this sojourn on the back side of Africa, and that put us in their cross-hairs – quite prematurely in our opinion.
We intend to send out a complete report of our work soon, but it is fair to say that this has been one of the more satisfying terms of service. Besides our daily routine of discipleship, running the radio station, keeping an eye on the clinic, and working with the kids, we translated Acts, Revelation, Ruth, John, 1 & 2 Thessalonians and a third of the Psalms during these years. We managed to stay remarkably healthy and the Lord graciously preserved us from a multitude of evils.
We have already seen quite a few of you during the six weeks we have been home, and we hope to see many more of you before we return to Chad. We will be living in northern Illinois until August 4, after which time we will move to Springfield Ohio. We are scheduled to return to Chad on November 14.
Your fellow servants,
Mark and Diane