April 27, 2014
Dear family, friends and supporters;
In less than a week we will return to the USA after having spent almost 3 years in Chad. We look forward to seeing many of you during the coming 6 months which we will spend in the States. Meanwhile, we are still in Chad, though not in Chageen. Here in a nutshell is news of our doings.
Your fellow servants in Chad,
Mark and Diane
Saying goodbye to Chageen
A month ago we put our truck on blocks, left 14 bags of catfood for Sophie and Patches, poured poison into every nook and cranny where we thought termites might make an appearance, calibrated the solar-electric systems at our home and the radio station, put $4000 and detailed instructions in a large trunk from which Francois and Joseph will pay salaries while we are gone, and did a 100 other tasks necessary to make sure our friends, home, equipment, and cats survive 8 months of our not being there. As has become our custom in recent years, we hired the MAF Cessna 182 to come get us, since preparing the car and then driving for 7 hazardous hours in the heat would have made an already stressful occasion even more so. Our friends and co-workers all came out to the airstrip to bid us farewell, and we were off, the sandy airstrip receding swiftly behind the plane as we gained altitude.
Back to N'Djamena
Replacing worn-out fascia boards on a 50 year-old building, hauling away three pickup-loads of old dot-matrix printers, rusty wheel rims, and other assorted junk from the mission storage rooms (but saving the 1929 National Geographic magazine), juggling the comings and goings of dozens of guests from a dozen missions who stay in the Team guesthouse, procuring a building permit for the new construction we anticipate, extricating missionaries' luggage from grip of the trolls who run the Customs service at the international airport, and serving meals to weary travelers arriving from the hinterlands of Chad – these are just some of the myriad ways we have promoted the cause of Christ in N'Djamena, the capital of Chad, during the month since our departure from Chageen.
We find ourselves here in N'Djamena again (we were here in February as well) because of the sudden departure in January of the couple who usually oversees all these mundane but essential tasks, Ken and Beth Leverich. Their departure was precipitated by Ken's diagnosis of ALS (Lou Gehrig's disease). The irony is that last year, we swore we would not under any circumstance endure another hot season here in Chad before going back to the USA. Alas, here we are in the worst month of the year. In less than a week, however, we will board Ethiopian Airlines for the long journey home.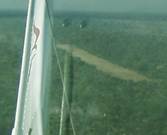 Tailfin of the 182 and our airstrip. A missionary's life of constantly leaving home, never knowing for sure whether he will ever return, be it to the USA or to his real home in Africa, is one of the most stressful facets of his life over the longhaul.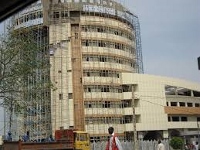 Flush with billions of dollars in oil revenues, N'Djamena is in the midst of a frenzied building boom. This is the new office of the nation's Social Security Administration only a few blocks from the Team missionary support center.
While high-rise office blocks and a Hilton hotel spring up around the city, most of the neighborhoods look like this. This is a middle class neighborhood – not a slum.