Dear family, friends, and supporters;
As of three weeks ago, we arrived back in Chad, though as we write this, we are still in the capital N'Djamena. We hope to return to Chageen in another two days' time. Normally, we would await our return to the village to send you news of our life here in Chad, but during the last few days, we were witnesses of something quite extraordinary, and we wanted to share it with you. Allow us to tell you the story of a quarter million dollars.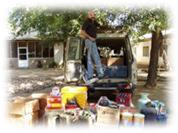 It happens all the time: a tired, dusty missionary arrives at the Team guesthouse in N'Djamena after driving hundreds of bone-jarring miles through some of the most desolate places on the planet. He parks his car in the security of the guesthouse compound, ushers his family into the comfortable, fully equipped apartment prepared for them, and tucks his kids into clean sheets on the comfortable beds. The next morning, the dedicated staff in the missions logistics office next door will resupply him with local currency to buy supplies, renew his visas for him, furnish him with internet access, and renew the paper-work for his vehicle. That same evening, the staff will pick up a couple of their colleagues from the international airport just a mile away. Life in one of the most difficult countries on earth has just become a little bit easier, and one man and woman's stress levels just dropped by several notches.
But another missionary is not so fortunate. After two lonesome months in the "bush," she calls the guesthouse, hoping for some R&R and maybe some treats with her friends at the French bakery around the corner. "Alas," the guesthouse manager says, "all our rooms are full now. We're so sorry." Crestfallen, she is obliged to wait another three weeks until there is an opening. And it is here where our story of a quarter million dollars comes in.
Three or four years ago, we missionaries simply couldn't bear to see our colleagues (and yes, ourselves on more than one occasion) be left out in the cold (well, heat) any longer. So we started strategizing, sketching floor plans, and saving money. Last year, the sketches finally turned into blueprints for a two-story, 5100 square-foot structure with 4 apartments, 14 beds, a logistics office, and a meeting hall. Maybe there would be enough room now. (Actually, there are so many new missionaries in Chad, that this might not be the case after all. But that's another story.) The savings, all of it from our own missionaries and field budgets, gradually grew to $104,000.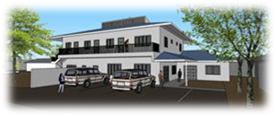 It wasn't enough. It became apparent that the blueprints would require $251,000 to build – a quarter million dollars. Moreover, the furniture and a new water tower would add another $80,000 to the tab. Feeling like we missionaries had done as much as we could, we turned to our constituencies in the USA and Canada in hopes that we could soon break ground. We resolved, however, that we would not do so until we had the full $251,000 in our hands. (You all received a letter or email from us about a year ago about this project.)
Fast-forward to a week ago. Notwithstanding many generous gifts from the USA and Canada, we still had only $163,000 after a year of fund-raising. Wringing every last drop out of our field operations' budgets pushed that number to $203,000. We still needed $48,000, and we needed it before this past Sunday, November 30th ­ - which was the deadline for procuring the coveted services of a South African construction engineer who would build the building. It was "do or die." And that is when we witnessed something quite extraordinary.
Missionaries are not rich. (Their maximum base salary is defined as 20% less than the average salary of a teacher in the USA.) But they are frugal, and frequently they live in places where there simply isn't anything to spend money on. So they
save. And they manage their "ministry" funds very carefully. And finally, as those who live off the generosity of others, they are generous – very generous. So as this past week drew to a close, and the deadline for the engineer approached, the 26 missionaries of Team-Chad gathered together, dug into their pockets, took stock of their ministry funds, and in the space of about 6 hours came up with $53,000 – about as much as had been raised during the entire previous year of fund raising, and a full $5000 more than what was needed to break ground. Somehow, it was fitting that the missionaries themselves should be the ones to put on such a spectacular display of largess. Perhaps they understood more than anyone else ever could just how crucial such an unglamorous, utilitarian building could be to the progress of the Gospel.
As we write, we are still hoping and praying for the $80,000 necessary to fully furnish the building and build a small water tower (as water supplies here can be intermittent). We already have some of this amount, but need much more. If you would like to contribute to this endeavor, you may send your check with a note designating it to "N'Djamena Capital Improvements" addressed to TEAM, P.O. Box 969, Wheaton IL 60187.