January 12, 2014
Dear family, friends and supporters;
This one is short, but it is one of those encouraging vignettes we couldn't afford to just let pass by. Enjoy.
Your fellow servants in Chad,
Mark and Diane
The Kwong Evangelism Campaign
evangelism campaign," even in the minds of our orthodox, evangelical It would be a scary thing to speculate on the stereotypes evoked by the phrase "Christian friends (which is most of you who are getting this missive.) We might be "evangelical," but we do pride ourselves in making known the Gospel with a certain decorum. In a word, "sharing" is always preferable to "campaigning" – unless of course you are Billy Graham.
Here in Chad, the same scary stereotype is operative, but none of the decorum. As the stereotype would have it – and it is a stereotype firmly rooted in reality – an "evangelism campaign" consists of a large number of Christians (there is safety in numbers) parading down the street of an unsuspecting village (the element of surprise is crucial, otherwise the intended audience might flee to the comparative safety of their fields) singing Christian songs (many of which would compete with anything the contemporary Christian music scene in America has to offer for sheer banality), in some language known to someone in the human race somewhere, but not by their listeners, nor even necessarily by themselves (Africans are the best when it comes to singing a song in a language they don't know – they would have loved the Middle Ages) – all accompanied by assorted noise-making objects which they gratuitously call "instruments".
Having set the scene thus, you can well imagine our dismay when we heard that the administration of the Evangelical Church of Chad (the largest Protestant denomination in Chad, and the church of which we and our co-workers are a part) announced last summer that Kwongland was to be one of several localities across Chad "targeted" (cross-hairs couldn't help but come to mind) for an evangelism campaign between Christmas and New Years. Hundreds of over-hyped men and women from our neighboring tribes for maybe 50 miles around would descend on us and let rip more or less as the script of the stereotype dictated – or so we expected.
We couldn't have been more wrong. In the event, the predicted hundreds of evangelists did descend on us, and yes, on a couple of occasions we were a little embarrassed by some of the antics. But when it was all said and done, thousands of people across Kwongland heard the Gospel – mostly in their homes, mostly in Kwong (each team of visitors had a Kwong person with them to translate), and mostly with a decorum and tact any American evangelical would be proud of. Hundreds of those who heard made some kind of confession of faith, and the organizers were working on follow-up even as the mass of visiting evangelists packed up and headed home on market-trucks, foot, bicycles, and motorcycles. A week later, many of the new converts were showing up in all the little churches scattered across Kwongland. We were dumbfounded – and have gained a new appreciation for how the Lord works through the simple, unpretentious, good-faith efforts of his children. Pray that the good seed which has been sown would take root and grow.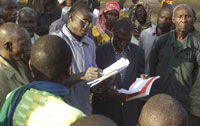 Getting organized
On the road
Preaching to a receptive audience in the compound of the chief of Otiya
"Sharing" with a group of women
Debriefing afterwards