Re-Adaptation
Missionaries are supposed to be the most adaptable people on the planet. Alas, we are not. Before we left Chageen in April for the trip home, we looked at each other and asked out loud "Why are we putting ourselves through this (i.e. leaving for furlough)?" Conversely, when we arrived back in Chageen, and were overwhelmed by termite damage, equipment that didn't work, and a general sense of disequilibrium, we were obliged to make recourse (really!?) to the "call of God" to encourage ourselves (which from a spiritual standpoint of course, wasn't a bad thing.) Yes, we really don't like change, and it is fair to say that the more we do it, the harder it gets. We are happy to report, however, that with the rhythms of life reestablished and fruitful ministry moving ahead, we are once again happy campers. Lesson: pray especially for your missionaries when they are in these transitions.
Interns
For both of us, a short term trip overseas was an important step in becoming long-term missionaries. We remain indebted to those missionaries in Kenya and Irian Jaya who took time out of their schedule to nurture us 30 years ago. For the past several years, we have made a conscious effort to repay that debt, and offer a new generation of potential missionaries the opportunity to experience missionary life with us. This past week, we welcomed three fine young men and women to our home for an intensive six week program of learning Kwong, observing culture, and following our ministry up close. Pray for James, David, and Sylvie.
Ministry - Translation
Mark, Joseph, and François have resumed translation work. They are working through 1 Corinthians, which was chosen as one of the key books (together with the Pastoral epistles) which must be ready for the opening of the Kwong Bible School in two years' time. Mark has found it truly remarkable how much sense a very complicated book can make in the hands of the skillful commentators he is reading for this project. It is a pleasure to endow the Kwong with a rendering of the book which, between careful translation and the judicious use of explanatory footnotes, will make much more sense to them than anything we ever grew up with. The bad rap Ivory Tower theologians get is surely as undeserved as the virtue of "just me and the Book" Bible study is overrated.
Ministry – Kids
Diane has re-committed herself to teaching the kids who show up on our doorstep – dozens of them sometimes – every MWF afternoon. The program consists of a reading lesson, Bible story, and then Legos or the soccer ball for the rest of the afternoon. It is a travesty that most of the kids, who do in fact attend the local public school, cannot identify letters, never mind sound out whole words even after several years of attending this institution. We are also teaching Sunday School again, though for now, we are on our own. Jonas, the church elder and village chief who has been telling the kids stories with us for 6 or 7 years seems to be tired of it. We are still praying (and ask that you pray as well) that he would get back in the saddle with us, and "serve the Lord, not men."
Orphan Annie (actually she doesn't have a name)
On Friday, Diane awoke to drumming at 4 AM – a sign that someone had died. (Mark's hearing aids were out, so he slept peacefully though it all.) It turns out a young mother who had given birth to a healthy baby girl at our clinic had just bled to death. A last minute attempt to get her to the hospital 100 kilometers away on the back of a motorcycle ended just 5 kilometers down the road where she died. The girl does not have a sister to nurse the baby (which would be the best solution), so our house worker Rachel, Diane, and Sylvie, one of our interns, are working with the family to nurse the child, having begun with the one can of infant formula in our possession. By the time you get this, the situation will almost certainly have changed, but do pray that the Lord would preserve this little girl's life. Diane will be posting updates on Facebook.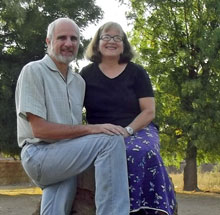 Happy Campers
L to R: James High (Illinois), Sylvie Atkinson (Manitoba), David Replogle(Maryland)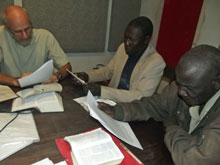 With François and Joseph, working through 1 Corinthians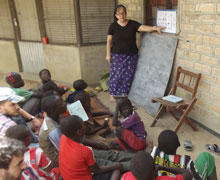 Teaching the kids – David and James on left
Sylvie with our nameless orphan