News from Mark and Diane Vanderkooi
---
January 27, 2016
Dear family, friends, and supporters;
Much has happened in our lives and ministry since we last wrote a couple months ago. Suffice it to say that most of it was good. Here in brief is a summary.
Your fellow servants, Mark and Diane
Christmas in the USA
For only the third time since we got married 16 years ago we spent Christmas with our families in the USA. As it turns out, the timing couldn't have been better, since barely 24 hours after our plane touched down, Diane's mother was diagnosed with bone cancer in her femur. That meant that much of our "vacation" was spent in the hospital, doctors' offices, and a rehab center. Mark also spent a fair bit of time working with Diane's brother Jon and a church friend making her parents' old two-story farm house habitable on the first floor by someone with a walker and wheel chair. Notwithstanding these unexpected events, the five weeks we spent in the USA were a refreshing and much needed change from the rigors of life here in Chad. As it turns out, Diane's mom's prognosis is pretty good, for which we are grateful.
Malnourished and motherless children
As we move into a season of the year where food is more plentiful in Kwongland, the number of children depending on Diane and her Kwong lady helpers has diminished to more manageable numbers. Currently they are nourishing 14 children. During our absence in the States, the Kwong ladies kept things going and for the most part, the children have thrived and are growing again. Some, like Celine, have made truly remarkable recoveries. The one discouraging story is that of Solgue. Back in August he was our poster child for coming back from the brink of starvation. Now, due in no small measure to the foolishness of his mother, he is back at the brink again. And this time, he flatly refuses to even try to eat. Pray for him. The three motherless children which we helped keep alive, including our almost-daughter Sylvie, are all growing well. Diane prepared a seven minute video report of these children for our missionary colleagues which she has posted on the internet at vimeo.com/149652005
Bible school students
In these coming weeks, we and our Kwong church leadership team will be doing a fair bit of travelling to the outlying villages of Kwongland in search of young men and women to attend our Bible school in June 2017. This task obviously will entail a good deal of discernment and wisdom. There are only too many young bucks out there who have failed at the high school exams (sometimes two or three times) who would, if we let them, attend Bible school just because they don't think they can do anything else, and farming (the default Kwong occupation) is beneath them. Pray for wisdom on our part. We want those young men and women whom God has called, and none other.
Translation
Sylvie is living with her birth-father and siblings most of the time now, so Diane finally has found enough time start work on 2 Timothy with Francois and Joseph. Mark, for his part, has realized that the Old Testament theology project he embarked on last year with the guys is taking way longer than anticipated, and so has dialed that project down in the interest of working on Galatians, followed by Ephesians and Philippians. We have realized that we just can't afford to see the Bible translation project superseded by the myriad of other efforts we find ourselves involved in. If the day comes when the country falls apart or our own health forbids our return to Chad, the translation project, at the very least, must be done. There simply isn't anyone else who can do it.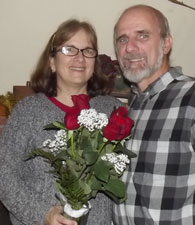 Christmas in the USA.
Celine – a success story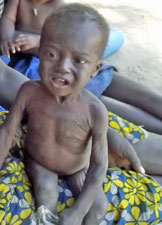 Solgue – the jury is still out.