June 4, 2016
Dear family, friends, and supporters;
It has been more than two months since we last wrote. Most of those two months were spent in the capital of Chad, N'Djamena, doing administration while our fellow missionaries who usually do the job took a much needed break. In this news update, we would like to help you understand something of this unglamorous underbelly of the missionary enterprise in Chad. We hope you find it informative.
Your fellow servants, Mark and Diane
Glamour – sort of.
Actually, we would like to backpedal right away on the "unglamorous" bit – unless of course you think that meeting all kinds of interesting people with a passion for sharing the good news of Jesus is dull. This is particularly the case at the Team guesthouse and logistics offices in N'Djamena where we were working. Just in the couple months we were there, we welcomed a French Canadian missionary working with the youth of Chad, several American missionaries working with Mu~lim tribes in the east of Chad, an Egyptian gentleman of Coptic roots and Presbyterian practice who wants to teach theology in Chad with his new wife from Mexico, as well as many other colleagues who live in the hinterlands of this vast country (twice as big as Texas). Arranging visas, purchasing plane tickets, picking up medicines, dropping people off at the airport, keeping the accounts straight, and providing them with safe, comfortable, and affordable lodging are just some of the things we did for them. For many missionaries from many organizations, this facility is an oasis of peace and orderliness in what is by any fair evaluation a very difficult country. We were honored to minister to them.
Kitchen cabinets etc.
As the number of missionaries in Chad grows, so do the demands on this facility. For quite a few years Team missionaries have been planning, raising money, and finally constructing a new building which will double the guesthouse space and provide better office facilities. That building is now nearing completion. All the heavy construction was done by Chadian contractors and hired Chadian labor. (When it comes to slinging cement around, nobody does it better, and you can't beat the price.) But when it comes to the interior finishing of a building, long experience dictates that western tradesmen and the missionaries do it. So, much of Mark's time during these last two months was spent hanging doors, building kitchen cabinets, supervising the construction of a patio area, and contracting with Chadian carpenters to build beds, desks, chairs, nightstands, and tables. Diane did some painting and started work on curtains for the building.
Where were all the short termers?
Mark really enjoyed the work. It was a nice change from the intellectual exertions of translation. But we couldn't help but wonder where the short-termers were which might have been helping us. Beginning a year ago, we and our missionary colleagues appealed for tradesmen and handymen to come help us at this stage of the project, and while a few did come (though no-one from our constituency) it was nowhere near what we hoped for. So instead of preparing Galatians for translation into Kwong, Mark built kitchen cabinets. It was hard not to think about the planeloads of kids waltzing off to the Caribbean or Latin America to, as the almost-but-not-quite joke goes, paint the same Sunday school rooms at the same churches which some other kids painted last year.
Back in Chageen
Now we are back in Chageen where we will stay until November. Our main occupations during these coming 6 months will be preparing teaching materials for the Bible School (which, we remind you, will open a year from now), finishing the construction of the Bible school building (it needs a roof), and building an addition onto our guesthouse to make it big enough for our colleagues Larry and Jan Gray to live in. (They are coming to help run the Bible school). Meanwhile, Diane remains much occupied with feeding malnourished babies as well as her usual activities of producing programming for the radio station and working on Bible translation when time permits.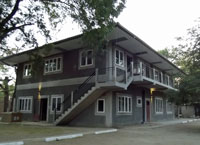 The new guesthouse and office was constructed with windows, dropped ceilings, counter-tops, flooring and many other finishing materials which we imported from the USA .
Six kitchens needed counters. A Chadian welder made steel frames and Mark built the wood facing, drawers, and doors. The counter-tops came from the USA
Gaston, whose specialty is chairs, was one of 3 carpenters who worked with Mark. Mark thoroughly enjoyed the comradery with these gentlemen.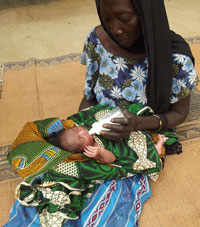 Nyikte (which just means "orphan") is the most recent of Diane's charges. He came to us just before we went to N'Djamena and we wondered how he would do during our long absence. As it turns out, between the formula we were able to furnish and an unusual degree of conscientiousness on the part of his caregiver he is growing and doing quite well.